Agricultural Sector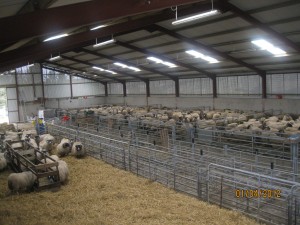 Over the years BMK Steel Ltd. has built up a strong and reputable relationship with the local farming community supplying beef units, sheep housing, potato stores and general purpose buildings.
We specialise in all types of agricultural buildings including:
Clear Span Portal Frames
Propped Portal Frames
Round Roof Sheds
Lean-to Sheds
Extensions to existing sheds.
We can supply these in self erect kit form, supplying steelwork, timbers, cladding, gutters etc. to your exact requirements.
There are many different cladding options now available for cladding or re-sheeting your farm building:
Galvanising Corrugated Iron
 Agribuild Corrugated Iron with 15year Guarantee (Range of colours)
Box Profile Plastisol Single Skin
Non Drip Sheet – An anti-condensation fleece is applied to the underside of the roofing sheet thus reducing condensation
Ventilated Sheet – dramatically increases the air flow through the building
Big Six Fibre Cement
Roof lights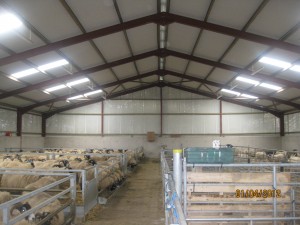 We also can also supply loose beams, box sections, angles and plates – cut and finished to the customers specification.
We also carry stock of timbers, sliding door track, PVC gutters and downpipes, BMK Steel Ltd are on hand to help with any building materials required.